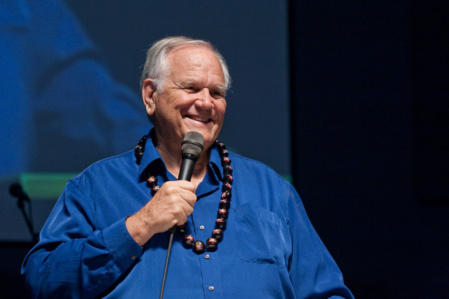 Loren Cunningham Youth With a Mission founder is dead
Founder of Youth with a Mission (YWAM), Loren Cunningham, died in his sleep at his home in Kona, Hawaii, on Friday (2023 October 6)
Cunningham was the first known Christian missionary to reach every nation and country. He was well known for deregulating ministry by creating a platform through which young people could serve others globally within a short-term time period.
In addition to his global ministerial efforts, founding of YWAM, and University of the Nations, Cunningham was also a well-published author. His books included Is That Really You, God?, Making Jesus Lord, The Book that Transforms Nations—the Power of the Bible to Change Any Country, Why Not Women?, Winning God's Way, and others. He also carried out a mission to end Bible poverty by translating the Bible into every language and making God's Word accessible to all.
In 1956, again during prayer, he had a vision, what he called a "mental movie": "Suddenly, I was looking at a map of the world, only the map was alive and moving! I could see all the continents, and waves were crashing onto their shores.
He obeyed simply because he believed it was the Lord and he persevered and went to the ends of the world.
Loren is often called the « de-regulator of missions » because he broke the 1960s missionary paradigm by creating opportunities for Youth to serve short-term, interdenominationally, globally and unsalaried. This
foresight opened the floodgates so that millions could come FROM everywhere and go TO everywhere as missionaries around the globe to proclaim the truth of God and display His love.
The ministry he founded, Youth With A Mission, an ever-expanding global missions movement born in 1960, has reached into every nation on earth through evangelism, training and mercy ministries (YWAM.org). Tens of thousands of full-time staff participate from 200+ countries and various denominations and Christian traditions, serving at over 2,000 YWAM locations in nearly 200
nations. Millions have served in YWAM programs as students, short-term volunteers and fulltime staff.
Many have credited YWAM as being among the world's largest mission movements. But when presented with this claim, Loren always deflected the glory to Jesus, saying, « Well, however large it is, it's not large enough because Jesus' last commandment to reach the whole world with the Gospel has not been completed. » He was well-known for his call to build bridges of
unity within the body of Christ, always quick to recognize the scores of other missions and churches serving together in partnership